Raghav Chandra
I.A.S 1982 batch
---
chandraraghav007@gmail.com
PROFILE
---
Recruited into the prestigious Indian Administrative Service through a national competition in 1982, Raghav Chandra is a career civil servant who has an interest in writing about environment, economic and public administration issues. He has Masters Degrees in Mathematics and Public Administration from Delhi University and Harvard respectively. He has recently authored SCENT OF A GAME, a mystery-drama that vividly unravels the larger issues of tiger poaching/management/conservation and the need to seek redemption by protecting animal life.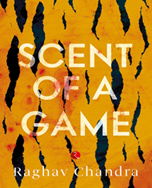 About Scent of a Game
Mystery-drama-thriller about tiger-poaching, big-game hunting and the international trade in endangered species against the backdrop of conservation
---
Book Reviews : Goodreads
Antony De Sa

October , 2019

KALI'S DAUGHTER: On the surface, this is a story – and an engaging one, at that – of a young girl from a small town who gets into the Foreign Service, her friendships, relationships and professional dilemmas. But Kali's Daughter is considerably more than that. Like the Narmada in spate, it runs deep and turgid, and plumbs the uncomfortable truths of pernicious pride and prejudice that surround caste in our society; and it does this with a frankness and incisiveness that is as sharp as it is disturbing. The story line is superbly crafted, bringing together the myriad caste-related incidents that we read of in the newspapers into a coherent and interesting narrative. Clearly the author has drawn on his experience as Secretary of the National Commission for Scheduled Castes and Tribes, and the access he had to rich documentation of events. Such an approach could have well degenerated into dull reportage. But not so. On the contrary, Chandra manages to hook the reader in the opening pages, and never lets interest flag. Chandra doesn't shy away from telling it as it is. What is remarkable is that few of his characters are either black or white. Through conversations and stories within the story he touches on a whole gamut of thorny issues and taboos – reservations, beef-eating, professional merit, menial work, inter-caste marriage – and he does this in a way that is non-judgmental, with an exposition of arguments in favour and contrary, leaving the discerning reader to make of it what she will. But in the end, it is a powerful indictment of caste discrimination. One the characters, a thakur himself, says: 'Our great Indian head is stuffed with two big things: gobar and jaat. Laws can change, governments can change, but one thing never changes in India – our minds.' As the story unfolds, one begins to see the truth of this. Such a book could well have turned out to be sombre and depressing. But Chandra delivers a tale that is as interesting at the personal human level as it is in the larger societal dimension. The twists and turns in the plot keeps you guessing as to who will end up with whom, and what will become of the main characters after they leave the cocoon of the Academy of Administration. Readers familiar with Madhya Pradesh and those from the Civil Services will find the book etched with echoes of authenticity, and the graphic depiction of the life of Officer Trainees during the joint foundation course in the LBSNAA could only have been written by one who has experienced it himself. In more ways than one, this compelling story is an insider's view of the contradictions in our society, the vulnerabilities of administrators, and the hypocrisies of the privileged. It is also a charming story of courage and hope, that neatly ties up some loose ends, and leaves others to the reader's imagination to resolve. A book of our times, that needs to be read.

Anil Swarup

May 30, 2014

The book scores on a number of fronts. It is extremely well researched. It weaves a gripping story to drive home an important conservation related issue. The character of the chief protagonist is such that the reader can relate to his agonizing and frustrating moments. The book explores a new dimension of greed of the colonial powers and of those "natives" that pandered to this greed. Though there are references to certain aspects of CITES (perhaps to lend authenticity to the concerns about wildlife conservation), the narration is simple and taut. The story moves seamlessly through various periods and regions, reminiscent of Amitava Ghosh. Brilliant. Absolutely brilliant.

Pravir Krishak

May 27, 2014

Gripping and absorbing! 'Scent of a Game' is a wonderfully crafted thriller. As Mr Raghav Chandra creates gripping plots and events around wildlife poaching,hunting and mafia associated with its trade,he gives us an unforgettable and masterful work of fiction with underlying social message on environmental concerns.

Gaurav Krihna Bansal

June 17, 2014

Scent of a Game: Durrell Meets Hitchcock on the Tiger Trail

When Ram, a wealthy NRI, decides to return to India to fulfill his father's last wish, he gets caught in a web of deceit, intrigue and big money revolving around Tiger Poaching and big game hunting. What happens next and how the plot unfolds is what keeps you glued to the novel. Scent of a Game is a unique novel in as much as it seamless blends two diverse genres of writing-conservation and suspense-to produce a thriller par excellence which entertains and educates at the same time. I have been a huge fan of Gerald Durrell and Alfred Hitchcock. What Raghav Chandra has done is that he has managed pull a rabbit out of the hat by fusing the domain knowledge of a Gerald Durrell novel the Suspense and Thrill of one written by Hitchcock. Scent of a Game boldly explores the rich tapestry of Indian culture and indeed-the culture of whole South East Asia-and its intimate connection with the Tiger. It takes you on a breathtaking journey across India, Nepal and Myanmar and regales you thoroughly while surreptitiously adding to your knowledge about the battle between the international mafia involved in the trade of parts of endangered species-especially the tiger-and nations trying to protect their precious natural heritage from this relentless onslaught. All in all, a true thriller based on deep knowledge and understanding of the Tiger, its habitat, its poaching and the dirty underbelly of crime and money that fuels the carnage. 'Scent Of A Game' it is an unputdownable book-one that you will want to read from cover to cover not once but several times.

Prof. Zamiruddin

May 17, 2014

Raghav Chandra's marvelous book jolts our social conscience and deserves to be read by all those who are concerned about the preservation of environment and most importantly the impending extinction of the tiger – a fast disappearing species.

Rohit

May 23, 2014

Brilliant description of wildlife poaching, hunting, history of hunting, international mafia that deals in wildlife trade. An excellent read! A must for all wildlife and tiger lovers and those who have been anywhere near a wildlife park, sanctuary or Tiger Reserve. Very gripping and very absorbing! If you can't have enough adventure in your life, at least read this book!