Raghav Chandra
I.A.S 1982 batch
---
chandraraghav007@gmail.com
PROFILE
---
Recruited into the prestigious Indian Administrative Service through a national competition in 1982, Raghav Chandra is a career civil servant who has an interest in writing about environment, economic and public administration issues. He has Masters Degrees in Mathematics and Public Administration from Delhi University and Harvard respectively. He has recently authored SCENT OF A GAME, a mystery-drama that vividly unravels the larger issues of tiger poaching/management/conservation and the need to seek redemption by protecting animal life.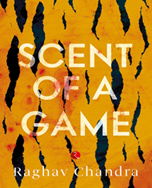 About Scent of a Game
Mystery-drama-thriller about tiger-poaching, big-game hunting and the international trade in endangered species against the backdrop of conservation
---
Book Reviews : Goodreads
Anil Swarup

May 30, 2014

The book scores on a number of fronts. It is extremely well researched. It weaves a gripping story to drive home an important conservation related issue. The character of the chief protagonist is such that the reader can relate to his agonizing and frustrating moments. The book explores a new dimension of greed of the colonial powers and of those "natives" that pandered to this greed. Though there are references to certain aspects of CITES (perhaps to lend authenticity to the concerns about wildlife conservation), the narration is simple and taut. The story moves seamlessly through various periods and regions, reminiscent of Amitava Ghosh. Brilliant. Absolutely brilliant.

Pravir Krishak

May 27, 2014

Gripping and absorbing! 'Scent of a Game' is a wonderfully crafted thriller. As Mr Raghav Chandra creates gripping plots and events around wildlife poaching,hunting and mafia associated with its trade,he gives us an unforgettable and masterful work of fiction with underlying social message on environmental concerns.

Gaurav Krihna Bansal

June 17, 2014

Scent of a Game: Durrell Meets Hitchcock on the Tiger Trail

When Ram, a wealthy NRI, decides to return to India to fulfill his father's last wish, he gets caught in a web of deceit, intrigue and big money revolving around Tiger Poaching and big game hunting. What happens next and how the plot unfolds is what keeps you glued to the novel. Scent of a Game is a unique novel in as much as it seamless blends two diverse genres of writing-conservation and suspense-to produce a thriller par excellence which entertains and educates at the same time. I have been a huge fan of Gerald Durrell and Alfred Hitchcock. What Raghav Chandra has done is that he has managed pull a rabbit out of the hat by fusing the domain knowledge of a Gerald Durrell novel the Suspense and Thrill of one written by Hitchcock. Scent of a Game boldly explores the rich tapestry of Indian culture and indeed-the culture of whole South East Asia-and its intimate connection with the Tiger. It takes you on a breathtaking journey across India, Nepal and Myanmar and regales you thoroughly while surreptitiously adding to your knowledge about the battle between the international mafia involved in the trade of parts of endangered species-especially the tiger-and nations trying to protect their precious natural heritage from this relentless onslaught. All in all, a true thriller based on deep knowledge and understanding of the Tiger, its habitat, its poaching and the dirty underbelly of crime and money that fuels the carnage. 'Scent Of A Game' it is an unputdownable book-one that you will want to read from cover to cover not once but several times.

Prof. Zamiruddin

May 17, 2014

Raghav Chandra's marvelous book jolts our social conscience and deserves to be read by all those who are concerned about the preservation of environment and most importantly the impending extinction of the tiger – a fast disappearing species.

Rohit

May 23, 2014

Brilliant description of wildlife poaching, hunting, history of hunting, international mafia that deals in wildlife trade. An excellent read! A must for all wildlife and tiger lovers and those who have been anywhere near a wildlife park, sanctuary or Tiger Reserve. Very gripping and very absorbing! If you can't have enough adventure in your life, at least read this book!